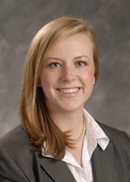 By Guest Blogger Carla Haubenschild, Northwestern Mutual Financial Representative, Delafield, WI
"Those who don't jump will never fly," writes poet Leena Ahmad Almashat. Life Coach Alissa Gauger taught me that I am and will always be a jumper--willing to take risks--since I am what is called a Quickstart. And my Associate Amy will never be, thank goodness, since she happily holds down the fort as what's called a Follow Thru.
Amy and I took what is called the Kolbe Index A to learn how we naturally solve problems, take action and strive. It turns out that I like to build my wings on the way down whileAmy likes to create order and process. What a marvelous team! And, at the same time, how do we make sense of our differences?
The Kolbe test and analysis is included in the Unleash Your Practice retreat. It is one of the most enlightening tests I have ever taken!
During our analysis, Alissa taught us what our test results meant for us as individuals and then what it meant for our working relationship. We learned so much about each other and how to support each other's styles instead of causing each other stress. Since this is our hardwiring, it has turned out to be vital intel. Unleash Your Practice® is an invitation to jump. Are you willing to invest in yourself to fly?